Despite the recent rains, Central Texas is still in the midst of an exceptional drought. With that in mind, Austin Water is reviewing the structure of its current watering restrictions and codes, and asking for citizen input.
Citizens and businesses are invited to attend a workshop, Tuesday, March 27, 6:30 - 9 p.m. Participants will review a draft framework for watering restrictions and drought response developed from public feedback. The workshop will be in Room 104 of the Austin Water headquarters located at 625 E.10th Street. Free parking is available in the garage.
Austin has been in Stage 2 twice since 2009. From these two occurrences, Austin Water officials have received extensive feedback about what is and what isn't working in the current water conservation code.
If the drought does worsen, the Lower Colorado River Authority-where Austin gets its water-would ask customers to cut back even more than Stage 2 restrictions require. The current code and watering restriction levels are not designed for long-term drought situations. Updates to the water conservation code will take into consideration protecting Austin's tree canopy and the long-term effects on Austin Water residential and commercial customers.
For up-to-the-hour Lake Travis water levels, an interactive map of lake levels every day from 2007 to today, drought status for Texas and the US, and more click here. As of 3/19 Travis is 48 feet below full, and 38 feet below the March average. For the LCRA Colorado river report click here.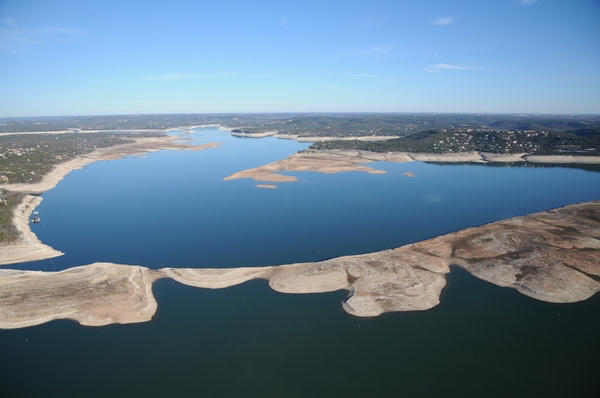 January 11, 2012