Stage 2 Watering Restrictions
Austin Water implemented Drought Response Stage 2 Regulations on September 4, 2012, in response to combined storage in lakes Travis and Buchanan reaching the 900,000 acre-foot trigger outlined in the Drought Contingency Plan.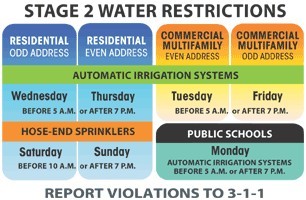 Please note that watering days and times, and other restrictions may have changed due to recent revisions to the Water Conservation Code.
• Hose-end irrigation may take place between midnight and 10 a.m. and between 7 p.m. and midnight on your assigned watering day.
• Automatic irrigation systems may operate between midnight and 5 a.m. and between 7 p.m. and midnight on your assigned watering day. Please reduce system run times to fit within this schedule.
• Please ensure that your system has a working rain sensor, or operate the system manually when rain is forecasted.
• Watering with a hand-held hose or bucket is allowed at any time on any day of the week.
• Drip irrigation is exempt from the schedule, due to increased efficiency.
• To water trees, soaker hoses may be used under the drip-line of the tree canopy or you may use your automatic tree bubblers or refillable water vessels, i.e. a bucket with holes, Treegator®, etc. Irrigating trees in this manner is exempt from the watering schedule.
• Washing vehicles at home is prohibited. If you need to wash a vehicle, you may do so at a commercial carwash facility.
• Charity car washes are prohibited
• Fountains with either a fall or spray of water greater than four inches are prohibited; unless necessary to preserve aquatic life.