Seasonal Flu
Every year 5% to 20% of the population in the US is infected with influenza, more than 200,00 of these people are hospitalized, and an average of 36,000 people die from influenza-related causes. (http://www.cdc.gov/Flu/keyfacts.htm) Sentinel reporting, syndromic surveillance, and statistical models are used to estimate the burden of flu because there are far too many cases for case-based reporting. There are three main types of influenza viruses: A, B, and C. Influenza types A and B cause epidemics nearly every year. Influenza A viruses are divided into subtypes, based on differences in two surface proteins: hemagglutinin (H) and neuraminidase (N). During an influenza flu season, usually one or more influenza A subtypes and B viruses circulate at the same time. Seasonal influenza generally begins between October and January each year and peaks in January or February.
Vaccine Production
In addition to sentinel reporting, sentinel sites send isolates for typing throughout the year. The results of this testing are used to predict which strains will be prevalent during the coming flu season and to decide what to include in the vaccine. Each year, the seasonal influenza vaccine contains three influenza viruses – one influenza A (H3N2) virus, one regular seasonal influenza A (H1N1) virus (not the 2009 H1N1 virus), and one influenza B virus. The production process takes place during the few months between deciding which stains to include and the beginning of the flu season. In the US, an advisory committee convened by the Food and Drug Administration (FDA) makes the final decision about vaccine strains in February. Manufacturers grow vaccine strains based on these recommendations. Although the same process is used each year, there are variations in how different viruses grow and this can cause production to take longer some years. Manufacturing capacity is driven by vaccine demand in previous years. During 2009 two separate vaccines have had to be produced, the usual trivalent seasonal flu vaccine and vaccine for the novel influenza A strain. http://www.cdc.gov/Flu/professionals/vaccination/virusqa.htm

Novel Infuenza Pandemic
By definition, a novel virus is a virus that has never previously infected humans, or hasn't infected humans for a long time, so it's likely that almost no one will have immunity to protect them against it. Therefore, anyone exposed to the virus--young or old, healthy or weak--could become infected and get sick. If the novel virus is related to a virus that circulated long ago, older people might have some level of immunity. It is possible that the novel virus may be especially dangerous to some age groups that are not usually at risk of severe illness or death from annual influenza (such as healthy young adults). Such widespread vulnerability makes a pandemic possible and allows it to have a potentially devastating impact.
In April 2009, a novel strain of influenza was identified. The outbreak was first observed in Mexico and had probably been epidemic for several months when the first 2 cases in the US were identified in California followed by cases in Texas. It has spread rapidly through the US and much of the wolrd. Initially this strain was reffered to as swine flu because it contains genetic components of swine flu origin. The virus contains genetic components of human, swine, and avian strains and is currently refered to as 2009 H1N1 influenza.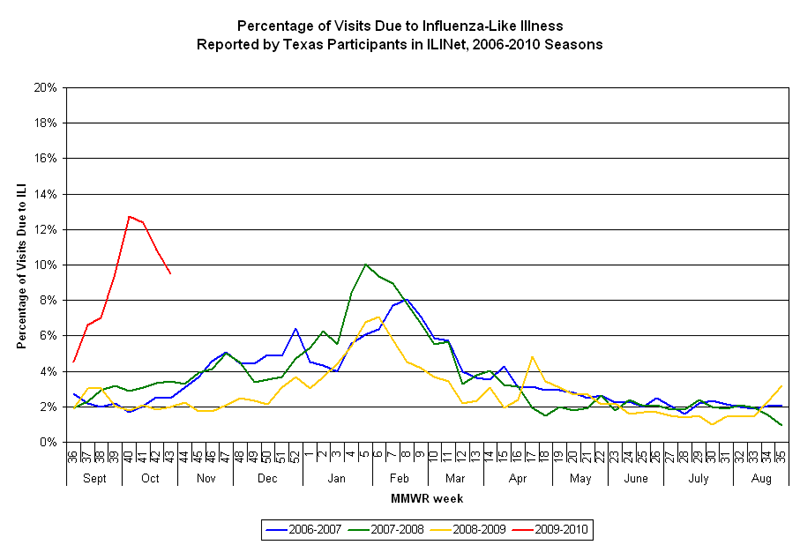 The graph below shows the estimated rate by age group of 2009 H1N1 cases per 100,000 people reported to CDC in the US from April 15 to July 24, 2009. This epidemiological data supports laboratory serology studies that indicate that older people may have pre-existing immunity to the novel H1N1 flu virus. This age distribution is very different from what is normally seen for seasonal flu, where older people are more heavily impacted.
Novel H1N1 Confirmed and Probable Case Rate in the United States, By Age Group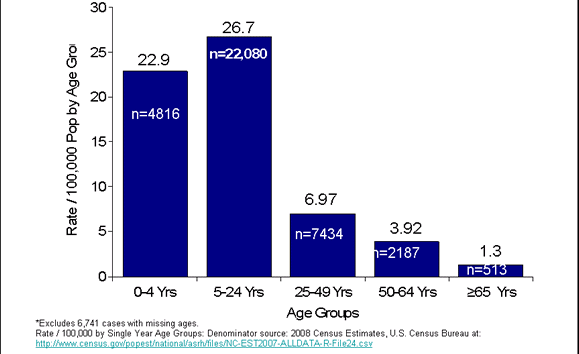 Most people infected with this virus in the United States have had mild disease, but there are some patients, even among previously healthy young persons, who rapidly develop severe pneumonia, typically 3 to 5 days after initial onset of symptoms. Deterioration can be very rapid, with many patients progressing to respiratory failure within 24 hours, requiring intensive care and ventilation support. Individuals aged 6 months to 24 years of age, pregnant women, and people aged 25 to 64 years of age with chronic diseases like asthma, diabetes, or heart disease are at higher risk for complications from this infection. The first available 2009 H1N1 vaccine is targeted for persons with these risk factors.
In previous years, it has been rare to see 2 or more influenza-related pediatric deaths in the US prior to December or January. This year, pediatric deaths due to 2009 H1N1 flu began to be reported in May. (See graph below, MMWR week 1 is the first week, of the year with 4 or more days and the last week of the year is 52 or 53. The bars are coded blue and green for seasonal or undifferentiated influenza and pink or yellow for 2009 H1N1 flu.)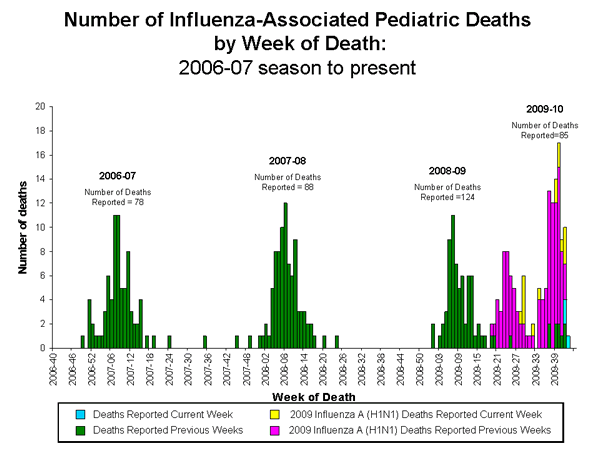 In Texas the total number of pediatric deaths for 2007 and 2008 were 13 and 9 respectively. There have been 29 pediatric deaths due to H1N1 flu reported so far, with 11 deaths in September and 10 in October.
We don't know how the pandemic outbreak will play out and what its role will be during the coming more traditional flu season. Flu activity is currently widespread in almost every state including Texas, but regional epidemiologists have reported that there are signs that the number of cases is currently going down.
Influenza Prevention Measures
• Get both flu shots
.... o Where to get a flu shot
.....o Seasonal flu is available now
.....o Pandemic H1N1 influenza distribution will continue through November and is currently available for those in high risk groups
..............Pregnant women
............. Children 6 months through 4 years of age
............. Children 5 years through 18 years of age with high-risk health conditions
..............Health care workers who provide direct patient care
..............Close contacts of those 6 months or younger
•Cover your coughs and sneezes
....o Cough into your sleeve, or
....o Cover your cough with a tissue, then dispose of the tissue and wash or sanitize your hands.
•Wash your hands
....o Frequently
....o Before touching your face or eyes
•Stay home if you are sick with symptoms of flu or other infectious diseases